REVERSIBLE UMBRELLA
Rs. 1,299.00
Rs. 2,299.00
save 43%
Tax included.
---
---
Hurry, low quantity!Hurry! – Only 19 left in stock.
DESCRIPTION
 Tired of all the hassles that come along with rainy days?
Reversible Umbrella  has you covered. Enjoy functional art with a reverse opening stick umbrella - hands-free operation lets you talk, text and travel in style. The unique construction captures rain to keep cars and floors dry. It's self-standing design eliminates the need for an umbrella stand.
 Features:
DOUBLE LAYER CANOPY : The reversible umbrella cloth is made of high density water repellent fabric material.
PERFORMANCE - This exclusive Inverted umbrella t you stay dry and look impeccable even after walking from the parking lot to make that important business pitch. When you reach your destination and close the Sharpty, rain collects inside ais designed with durability, versatility and comfort in mind. umbrella is constructed with premium carbon fiber material which is sturdy, corrosion resistant and features double-layer canopy design to protect against rain and wind.
ERGONOMIC C-SHAPED HANDLE - Walk comfortably hands-free while answering phone calls, handle grocery bags, baby or even grab a child's hands. The comfort grip C-Shaped handle allows to slide over a forearm or wrist so makes it able to attend what is more important
NEWEST INVERTED DESIGN - The mechanism of the beautiful windproof umbrella is inverted which gives the ability to close from the inside-out when opening the door or accesses the lobby room without dripping water after heavy rain. This authentic model prevents getting the car or floor wet, thus keeping dry and clean
WINDPROOF & WEATHER RESISTANCE -This windproof umbrella that withstand wind speeds in excess 60 miles per hour. Our stylish reverse umbrella is lightweight, compact, portable, quick dry, and corrosion resistance.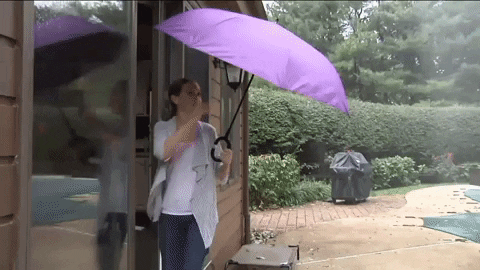 ---
 Benefits
Hands-Free:

 

The durable C-Shaped handle of this reversible umbrella has been specifically designed for comfortable hands-free use. Simply hang it over your arm or wrist and your hands will be free to use your mobile, handbag or shopping bag with ease while remaining out of the rain.
Space-Saving:

 

Self-standing when closed! No need to keep the umbrella open to drip dry when bringing it inside after a rainy day. It takes up less space in a hallway or foyer, and no one will be tripping over this one.
Stay dry in the car or at the office : the upside down umbrella opens from the inside out, which leaves the wet side of the canopy contained on the inside when closed. Think of it like a flower opening.
Easy To Operate & Safe To Use:

 With a simple click of the embedded button, you can open and close the umbrella in confined spaces, and when entering or exiting a building or car. It's less awkward and safer to open and close when in crowds - the danger of poking someone in the face or eyes is gone!
---
   How To Use
Step 1 :-

 

Simply wear it.
---
  Frequently Asked Questions

 1:Does this umbrella have a solid shaft, or is there a plastic sleeve over it?
A : Solid shaft
Material sleeve fits over umbrella when it's closed and has a handle
2: Does this cover a person well if the rain is coming down in buckets~?
A: It's a good sized umbrella with good coverage. How well it would cover a person would probably depend on the size of said person.
3 :Does it stand up?
A :Yes
4:What is the Return Policy?
A:We accept hassle free 7 days return policy. You can whatsapp us on the button on your right bottom of the screen.
5:What is the Shipping Time?
A: It is within 2 to 5 days. Order processing time is 24-48 hours.
6:Is Cash on Delivery Available?
A: Yes,  Cash on Delivery is always available.
REVIEWS
SHIPPING POLICY
Shipping Rate:

For Prepaid Orders: We charge no shipping and handling fee. Free shipping is included.

For COD Orders:  FREE Cash on Delivery .

Order Processing:

We strive to fulfill orders as soon as you place them. In most cases, your order will be sent to our delivery partner within 1-2 days. Our Business Days are Monday-Friday.

Shipping Times:

For most serviceable pin codes, we try to deliver within 7 days. But due to un-for-seen circumstances like weather, strikes, remote locations, stocking issues or any other reason - it may take longer. You will however be able to track your package using a unique tracking link that we will SMS/email you after the order is sent to our delivery partner.
People who bought this product also bought
You may also like these products