PUSH BUTTON STORAGE CONTAINERS DISPENSER - PACK OF 2
Tax included.
---
---
Hurry, low quantity!Hurry! – Only 15 left in stock.
DESCRIPTION
Now, Forget all old-style Containers that are Blocking Space in Your Kitchen. It's Time to Use Wall Mount Container. 
Push Storage Container Easy To Use Save The Time And Save Place.. It Saves Space on Your Kitchen Counter, Table, Drawer, Desk, Cupboard. Just Stick the Container on the Wall of Your Kitchen with Adhesive Tape which is Provided by us. Don't Worry About Load of Weight and Glue issue. 
Features:-

 
STORAGE BOX FOR KITCHEN HIGH QUALITY: Grain dispenser is made of standard durable food grade plastic - resistant and resilient. Only with our dispenser you don't have to worry about breakage or uncertain slips. It holds maximum freshness and prolong food storage, which is good and safe for your family, without compromising on Quality. Height 20 cms, Width 11 cms, 
Length 9 cms
CONTAINER FOR KITCHEN IS ANTI-SLIP DESIGN: With our dispenser along with volume, easy operability we provide the surety of "No-Slip". The storage container is stackable and modular keeping in view the needs of daily Indian kitchen keeping in view the standard amount of grain taken in daily use. We provide a sturdy storage with a strong hold which comes without the stress of slip.
PUSH BUTTON STORAGE BOX IS BEAUTIFUL AND PRACTICAL: It is designed keeping in mind the changing needs in Indian kitchen with a functional and aesthetically effective design to add flair in your kitchen .Classic transparent body allows you to see the contents at a glance, and you can always know the remaining grains. So if you are someone who loves believes in art in everything then what are you waiting for ? This Product is just designed for u.
---
Benefits
Wall-mounted Design: Wall-mounted Cereal container saves table space and keeps it clean. Comes with a strong non-marking sticker, which sticks firmly.It is suitable for smooth wall, not suitable for rough surface, painted wall, wallpaper wall, lime wall, cement wall.
First In,First Out: Sealed storage tank keep grain moisture-proof and dust-proof. Compared with a large capacity food container, this one can let the previous grains come out first by pressing the spring button, which can better keep the grains fresh.
Visible Remaining Amount: The transparent cereal container for easy to see clearly the remaining amount.Wide mouth and lid for easy loading food.
Easy to Use: Wipe the smooth wall,tear off the film of stickers and paste the stickers on the wall,squeeze out the air and let it stand for 24 hours. Press the button of the cereal dispenser to take out food, control freely and keep it freshness.
Sealed Freshness : The dispenser is sealed to keep the freshness of dry food. Just place the bowl under the dispenser and turn the knob to get the controlled part.
Large capacity: 1.5L storage capacity is very suitable for the storage and management of family dry food, suitable for the storage of a variety of small particles such as cereals, candy, cereals, nuts, beans, rice, etc.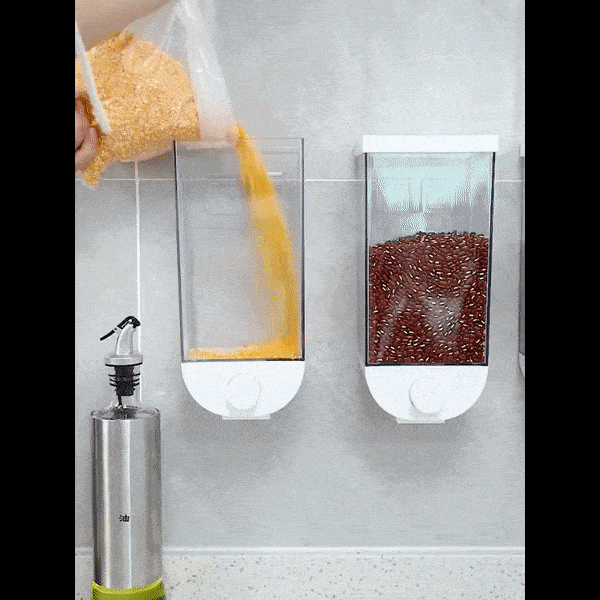 ---
 How To Use
Step1: Just remove the sticker and stick the dispenser on the wall 
Step 2:

 Put the grains in the dispenser
---
 Frequently Asked Questions
1.Is it durable?

A: Yes.
2. Where it is made?

A: It is made in India
3.Is it easy to use?

A:Yes , it's just one press operation
4. What is the Return Policy?

A: We accept hassle free 7 days return policy. You can WhatsApp us on the button on your right bottom of the screen.

5. What is the Shipping Time?

A: It is within 2 to 5 days. Order processing time is 24-48 hours.

6.  Is Cash on Delivery Available?

A: Yes, Cash on Delivery is always available.  
---
REVIEWS
SHIPPING POLICY
Shipping Rate:

For Prepaid Orders: We charge no shipping and handling fee. Free shipping is included.

For COD Orders:  FREE Cash on Delivery .

Order Processing:

We strive to fulfill orders as soon as you place them. In most cases, your order will be sent to our delivery partner within 1-2 days. Our Business Days are Monday-Friday.

Shipping Times:

For most serviceable pin codes, we try to deliver within 7 days. But due to un-for-seen circumstances like weather, strikes, remote locations, stocking issues or any other reason - it may take longer. You will however be able to track your package using a unique tracking link that we will SMS/email you after the order is sent to our delivery partner.
People who bought this product also bought
You may also like these products