PORTABLE NECK FAN
Tax included.
---
---
Hurry, low quantity!Hurry! – Only 15 left in stock.
DESCRIPTION
 AB PASINE KI CHUTTI
Neck Fans; Neckband Fans; Portable Fan; Hands-Free fans; Wearable Fans; USB Fans; Battery Operated Fans; Sports Fans; Hand held Fans; Personal Fans; Rechargeable Fans; Travel Fan; Electric Fans; Mini Fans; Desktop Fans
Features:-
Safety Material & Light Weight - Portable mini personal neck fan the outer casing uses ABS materials, safe and environmentally friendly. Built-in pure copper brushless motors to ensure that Neck Fan power allows you to enjoy quiet wind. The portable neck fan weight is only 6.3 OUNCES,comfortable neckband design won't cause a lot of burden on your neck when worn for a long time.Just hang the fan around your neck to relieve the heat of summer.
Hands Free Design - Portable Neck Fan Personal fan was designed as a head phone your hands anywhere ; Hand Free Personal Mini Fans handheld portable fans can take it anywhere in hot weather. can hang the USB neck hang fan above your umbrella or parasol,This is a great cooler fan! Suitable for Traveling ,Sports, Office, It can also be used as a gift for Mother's Day and Father's Day!
Foldable and 360° Rotate- Portable fan have two wind head, can feel more airflow,also can adjust the direction 360¡ã which allows you to adjust to any different angles, portable Neck USB Neck Hang Fan you can take it to anywhere,simple and easy to create wind for you. It's ideal for personal cooling, camping,outdoor event,trips,office, church,hot flashes. This personal fan is a good helper to solve the sultry face and neck!
Three modes let you choose- Handheld Fan has three modes: low, mid, and high.press the power button to adjust, simple operation, just to bring you convenience.The fan blade is a seven-leaf design. Many fans on the market are designed with three-leaf blades. Owing to different speed, the working time is 3-12 hours(depending on the use of wind speed).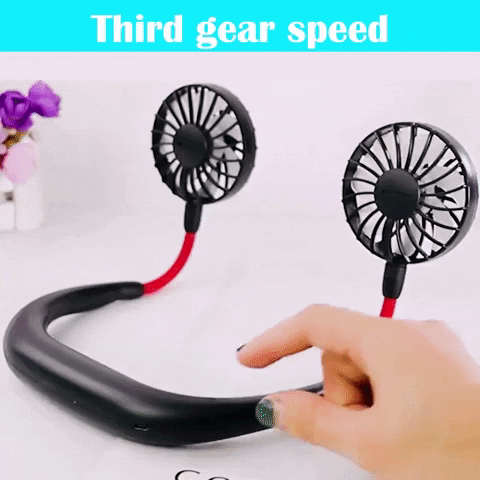 USB Rechargeable: 2000mAh lithium battery fan built-in rechargeable was powered by USB. No extra batteries are required. The small personal fan is compatible with most computers, laptops, portable chargers and other devices with USB output. 2.5-6 hours working time depends on different mode.
---
 Benefits
Stay COOL Anywhere Anytime  - Feeling hot? You need to go outside but also have no hands to hold regular portable fan? Why not always stay cool with this wearable neck fan? You can hang the fan around your neck and take it everywhere, will not feel tired or uncomfortable. Say goodbye to hot flashes, sweating, and flushing.
Many Applications let you choose - This portable mini fan is suitable for travel, outdoor activities, office, personal cooling, sports, running, sitting, reading, etc.And when your friend feels hot, you will give the hand-free fan as a gift to him/her, how exciting it will be.
---
   How to Use?
Step 1 :- 

 

Just wear it around your neck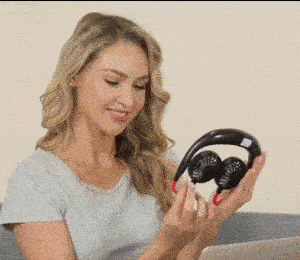 ---
 Frequently Asked Questions
1. Does the wind blown by the neck fan smell?
A:The two weeks that my fan worked it did not smell
 2. Does this fan have lights?
A: I bought two. Each one was from a different vendor. If it says it has lights then it does. I love wearing it when cutting the grass.
 3.What kind of charging cable does the fan use?
A:The neck fan uses an Android charging cable
 4.Is the neck fan easy to fall off if it is hung on the neck with a little exercise?
A:No, I like to bring this fan with me when cooking, it's really cool
5. What is the Return Policy?
A: We accept hassle free 7 days return policy. You can WhatsApp us on the  button on your right bottom of the screen.
6.  What is the Shipping Time?
A: It is within 2 to 5 days. Order processing time is 24-48 hours.
7. Is Cash on Delivery Available?
A: Yes,  Cash on Delivery is always available.
REVIEWS
SHIPPING POLICY
Shipping Rate:

For Prepaid Orders: We charge no shipping and handling fee. Free shipping is included.

For COD Orders:  FREE Cash on Delivery .

Order Processing:

We strive to fulfill orders as soon as you place them. In most cases, your order will be sent to our delivery partner within 1-2 days. Our Business Days are Monday-Friday.

Shipping Times:

For most serviceable pin codes, we try to deliver within 7 days. But due to un-for-seen circumstances like weather, strikes, remote locations, stocking issues or any other reason - it may take longer. You will however be able to track your package using a unique tracking link that we will SMS/email you after the order is sent to our delivery partner.
People who bought this product also bought
You may also like these products